Buying a paella online with "El Paeller" has never been so easy
To fully enjoy the Paella experience, in addition to eating the Paella, you must also prepare it. The Valencian people are well aware of this distinction, which is why they have turned its preparation into an extraordinary event. For as long as we can remember, friends and family have spent wonderful moments together gathered around the Paella while cooking it over the wood-fired oven. Now, with "El Paeller", you can do the same in your own home. Welcome to the Paella ritual.
Your Paella ready in just 18 minutes. Rafa Margós has already prepared the main part of the dish for you.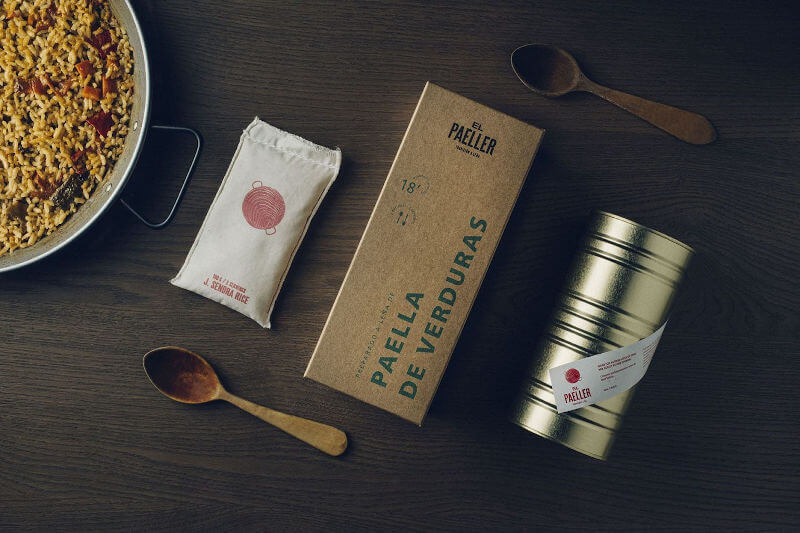 "El Paeller" contains the broth and all of the necessary ingredients for two people. This has all been prepared by Master Paella Chef Rafa Margós, so that you can enjoy your Paella in less than twenty minutes.
Cooked according to the authentic homemade tradition, he sautés and prepares the ingredients over firewood from orange trees. He interrupts the cooking process at the exact moment to seal in all of the Paella's nutritional properties and full flavor. When you cook this Paella made from all natural ingredients, it will be the same as the Paellas prepared by this Master Paella Chef who has cooked more than 300,000 Paellas over firewood in his more than 25 years of experience.
You will find exactly the same as in any traditional Paella: 100% natural and gluten-free ingredients.
"El Paeller" contains the exact ingredients that are used in the traditional recipe. You will find only the best quality ingredients, the majority of them local to the Valencian Community. With no preservatives, artificial colors or artificial flavors, this dish is faithful to its origins and captures the true essence of Valencia.
Your Paella ready in just 18 minutes.
The firewood is an additional ingredient adding unique nuances of taste, aroma, and color to the Paella.
"El Paeller" follows the authentic, homemade and traditional Valencian recipe. The ingredients are sautéed over orange wood fires that give this Paella its unique aroma and flavor. This is what sets this Paella mixture apart from the rest, converting your kitchen into the wood-fire Paella oven that sets the scene for the Paella ritual.
Do you want to prepare the best paella at home?
Doesn´t matter if you are just an amateur, a passionate foodie or a Horeca professional, contact us if you need extra information about our services, products and prices.
Don´t forget to follow us on our social networks and to sign up for our newsletter to stay updated of new products, upcoming activities and events.
Don´t hesitate to contact us for more information.